The Virginia Museum of Fine Arts' Glasgow Society acknowledges the commitment of those forward-thinking individuals who include VMFA in their financial or estate planning and who inform the museum of their generous arrangement. These donors carry forward the legacy of support established by the Glasgow family and other benefactors of the museum.
Sixteen individuals began the Heritage Society in 1998. Today, more than 300 people have joined this group of esteemed museum supporters, ensuring that VMFA will continue to inspire future generations of Virginians and museum visitors with its world-renowned collections and innovative programming. VMFA renamed the society the Glasgow Society in honor of Arthur G. and Margaret B. Glasgow in 2011, the same year their significant planned gift to VMFA was realized.
Members of the Glasgow Society have taken advantage of one or more of the many ways to give to the museum, which meet their own personal needs. See a list of our Glasgow Society members here.
Ways to give include:
Making a bequest.
Including VMFA in a revocable, or living, trust.
Investing in the museum's future with a gift that returns a fixed income to you for life: a charitable gift annuity.
Designating a share of the remaining balance of a retirement account.
Initiating a gift that returns income either for life or for a period of time that you specify: a charitable remainder trust.
Gifting the museum with a life insurance policy you no longer need, either by designating the museum as beneficiary, or by giving the museum ownership of the policy.
See our brochure on Planned Giving.
---
Giving Stories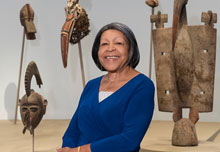 Jean Dyson has been coming to VMFA since a seventh grade school field trip, over 70 years ago, when she was impressed by a painting of a forest patch with light shining down through the trees. "VMFA is part of my history, part of my story. I love it." In high school, Jean worked across the street. As an adult, she has attended theatrical performances and lectures, and had the opportunity to meet several artists – all the time watching the collection grow.
While Jean has been to hundreds of museums throughout the United States and in different countries, she believes VMFA has an intimacy about it that is unique. Jean has made VMFA part of her legacy by leaving a bequest in her will, noting, "This museum has grown to reflect the best part of the culture of the region. I wish everyone knew VMFA belongs to all Virginians; it's our museum."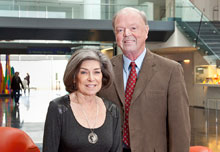 The museum's rich history includes numerous bequests—from modest to monumental—that have helped make the Virginia Museum of Fine Arts the outstanding institution it is today. While every bequest has a unique story, all legacy gifts share a common thread: donors who deeply appreciate VMFA's impact in their lives and want to share that experience with future generations.
For Chuck and June Rayfield, who joined the museum nearly 20 years ago, including VMFA in their estate plan is a way to honor the museum and the city they both love. "After many years of hard work at Reynolds Aluminum and careful saving, June and I feel very fortunate we are able to give back to our community," Mr. Rayfield explains. "VMFA represents so much of what's wonderful about Richmond: free access to great art, diverse educational opportunities, history for the viewing, and even fine food—all in a beautiful environment."