A Gift in Your Will or Living Trust
Ready to start planning today? View and download your FREE copy of
A Guide to Making Your Will: Direct Your Assets to the People and Causes You Care About Most
.
View My Free Brochure
Are you interested in helping the Virginia Museum of Fine Arts but feel overwhelmed by the thought of giving a significant portion of your assets today? A simple, flexible and versatile way to ensure we can continue our work for years to come is a gift in your will or living trust, known as a charitable bequest.
By including a bequest to VMFA in your will or living trust, you are ensuring that we can continue our mission for years to come. As little as one sentence of bequest language is all that is needed to complete your gift.
A Giving Story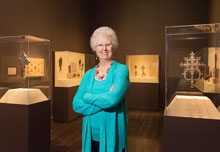 When Vienna Cobb-Anderson was choosing where to retire, VMFA was one of the things that drew her to Richmond. "There's something about VMFA that is gorgeous. It makes you want to smile. Just visit one exhibition and your life will be enriched." Vienna first fell in love with the museum as a child when she saw the medieval suit of armor affectionately known as "Max" and his horse. "It was just magical," she recalls. "There's a bigger than life dimension about VMFA; it takes you beyond your ordinary daily living, infusing you with creativity."
Vienna decided to include VMFA in her will to ensure that the museum will carry on as the vibrant place it is today, with the greatest reach possible. "It feels good to be a part of something that has history and will continue to grow," she explains. "We have to have a reason for hope and art gives one hope; art feeds the soul."
Learn How to Fund It
You can use the following assets to fund a bequest:
Next Steps
Contact Erin Elder at 804.340.1619 or erin.elder@VMFA.museum for additional information on bequests or to chat more about the different options for including VMFA in your will or estate plan.

Seek the advice of your financial or legal advisor.

If you include VMFA in your plans, please use our legal name and federal tax ID.
Legal Name: Virginia Museum of Fine Arts Foundation
Address: 200 N. Arthur Ashe Blvd., Richmond, VA 23220
Federal Tax ID Number: 51-0205333
Ready to start planning today? View and download your FREE copy of
A Guide to Making Your Will: Direct Your Assets to the People and Causes You Care About Most
.
View My Free Brochure