Beneficiary Designations
Want to learn more about making tax-wise gifts? Download our FREE guide
Beneficiary Designations: The 3 Easiest Ways to Leave Your Legacy
.
View My Free Brochure
Passionate about supporting the Virginia Museum of Fine Arts even after your lifetime? It's not only possible, it's easy to do with a beneficiary designation. Just name VMFA as a beneficiary to receive assets such as retirement plans and life insurance policies after you're gone. You simply fill out a form that is entirely separate from your will—which makes this approach an easy way to give.
Not only is it an easy way to give, but it's also flexible—you aren't locked into the choices you make today. You can review and adjust beneficiary designations anytime you want.
A Giving Story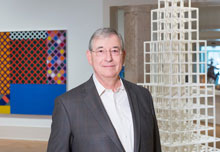 Eric Schellenberger's interest in art emerged at an early age. When he was 14 years old, his father brought him to New York City for the 1964 World's Fair. There he saw Michelangelo's Pietà emerge from the darkness bathed in a soft light and surrounded by dark blue votive lights arranged in vertical strings. The image made such an impression that it sparked an enduring interest in fine art.
In the early-1980's, Eric moved to Richmond and was introduced to the VMFA through the Jumpin' in July concert series, the Uncommon Ground exhibition of emerging Virginia artists and mid-Winter balls to raise funds for the planned children's resource center. Over the past 30 years, VMFA has greatly enlarged its facilities to broaden the scope of its permanent collection, added numerous outreach programs and is attracting increasingly significant touring exhibits. He said: "This museum is what would be expected in a much larger city. To find it here, open and available to everyone, is a gift to Richmond. This transformation is the result of the efforts of countless patrons and community members working to make Richmond a vibrant and engaging city. The museum has become an important venue for the display of the creativity that is essential to the human condition."
Eric has included VMFA in his estate plans as a beneficiary designate and invites others to consider doing the same. This support would allow the museum to expand its reach and to enrich the lives of others for many years to come.
Learn How to Fund It
You can name us beneficiary of the following assets:
Next Steps
Contact Erin Elder at 804.340.1619 or erin.elder@VMFA.museum for additional information on beneficiary designations and how they can help support VMFA with our mission.

Talk to your financial or legal advisor to learn which assets will or will not trigger taxable income when paid to a beneficiary.

If you name VMFA in your plans, please use our legal name and federal tax ID.
Legal Name: Virginia Museum of Fine Arts Foundation
Address: 200 N. Arthur Ashe Blvd., Richmond, VA 23220
Federal Tax ID Number: 51-0205333
Want to learn more about making tax-wise gifts? Download our FREE guide
Beneficiary Designations: The 3 Easiest Ways to Leave Your Legacy
.
View My Free Brochure