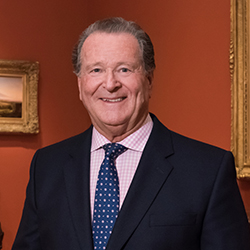 Jay Adams has a dual perspective on the Virginia Museum of Fine Arts. During his service on the Board of Trustees, the museum was preparing to undertake the largest expansion in its history, which would result in the VMFA we know today. Jay had the opportunity to work closely with some of the museum's most notable collectors and donors, whose generosity has made Richmond a must-see destination for art lovers.
As a native of Fauquier County, Jay is also attuned to the museum's impact beyond the capital region. He and his late wife were presidents of the Fauquier Chapter in an earlier era of statewide outreach. Today, Jay sits on the Board of the Museum of the Shenandoah Valley, a Museum-level partner in Winchester that's currently hosting the traveling exhibition Hear My Voice: Native American Art of the Past and Present.
Closer to home, Jay was delighted to see VMFA collaborate with The National Sporting Art Library & Museum, another statewide partner, to organize The Horse in Ancient Greek Art, which had its debut at the Middleburg museum last fall. He continues to serve—in an unofficial capacity—as an ambassador for the museum, urging friends in Northern Virginia to make the trip down I-95.
"VMFA is just a great treasure," Jay notes. "First-time visitors are never disappointed."
In 2000, Jay designated VMFA as the beneficiary of a life insurance policy and became a member of the Glasgow Society. After seeing how much had changed in previous decades, he chose to make the gift unrestricted so that the museum could determine how best to allocate the funds.
"As a Virginian, I think it's important to support the arts," Jay explains. "VMFA is in a unique position to benefit not just those in Richmond but communities across the Commonwealth."
Invest in the Future of the Arts in Richmond
You can follow in Jay's footsteps and ensure that VMFA continues to enrich the cultural life of Richmond and communities across Virginia for years to come. Contact Marie Hawthorne, Senior Development Officer, at marie.hawthorne@vmfa.museum or 804.340.1335 today to learn more about the many ways you can leave your legacy at VMFA.